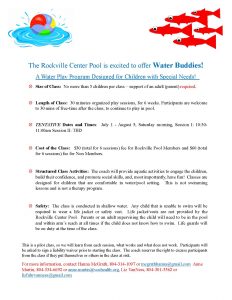 Water Buddies is a water play program designed for Children with Special Needs. 
Size of Class:  No more than 5 children per class – support of an adult (parent) required. 
Length of Class:  30 minutes organized play sessions, for 6 weeks. Participants are welcome to 30 mins of free-time after the class, to continue to play in pool.
Dates and Times:  July 1 – August 5; Saturday Morning, Session I: 10:30 am. to 11:00 am
Cost of the Class:   $30 (total for 6 sessions) fee for Rockville Center Members and $60 (total for 6 sessions) fee for Non Members.
Structured Class Activities:  The coach will provide aquatic activities to engage the children, build their confidence, and promote social skills, and, most importantly, have fun!  Classes are designed for children that are comfortable in water/pool setting.  This is not swimming lessons and is not a therapy program.
Safety:  The class is conducted in shallow water.  Any child that is unable to swim will be required to wear a life jacket or safety vest.  Life jacket/vests are not provided by the Rockville Center Pool.  Parents or an adult supervising the child will need to be in the pool and within arm's reach at all times if the child does not know how to swim.  Life guards will be on duty at the time of the class.
This is a pilot class, so we will learn from each session, what works and what does not work.  Participants will be asked to sign a liability waiver prior to starting the class.  The coach reserves the right to excuse participants from the class if they put themselves or others in the class at risk.
For more information, please contact:
Hanna McGrath at 804-314-1097, mcgrathhanna@gmail.com
Anne Martin at 804-334-6692, anne.martin@vcuhealth.org
Liz VanNess, 804-301-5562, lizfuhrvanness@gmail.com